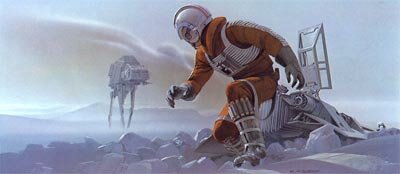 Dreams and Visions Press has published an unrivaled voluminous tome on the Art of Ralph McQuarrie. A concept designer, matte painter and cover artist that got his start at Boeing as a production illustrator, McQuarrie was key in realizing the look of Star Wars, Battlestar Galactica, E.T. and Cocoon for which he received an Academy Award.
The limited and leatherbound editions have sold out and the hardcover trade edition is quickly dwindling. At the time of this writing 377 copies remain from a total print run of 2000. This 11 pound, 400 page slipcase volume measures 12″ x 15″ with a comparably reasonable price of $125.



Concept Paintings by Ralph McQuarrie. Courtesy Michael Heilemann's Flickr Collection.