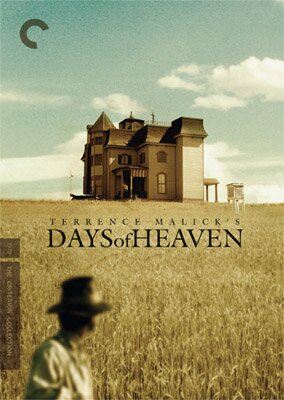 Bisecting the horizon amidst expansive vistas of wheat resides a lone Victorian style mansion. It reminds me of Andrew Wyeth's painting, Christina's World, though its inspiration is culled from Edward Hopper's House by the Railroad. It's one of many stunning sights in the poetic Terrence Malick (The Thin Red Line, The New World, Badlands) film, Days of Heaven.
Set in 1916, "a Chicago steelworker accidentally kills his supervisor and flees to the Texas panhandle with his girlfriend and little sister to work harvesting wheat in the fields of a wealthy farmer." Filmed in Alberta, Canada, primarily during magic hour, Days of Heaven lives up to its billing as one of the most beautiful motion pictures ever captured on celluloid. Originally unveiled in 1978, The Criterion Collection released a restored director-approved special edition last October and on December 27th, the Library of Congress inducted Days of Heaven into the 2007 National Film Registry. The Registry selects "25 "culturally, historically or aesthetically" significant films for induction each year."
The Oscar winning cinematography of Néstor Almendros and Haskell Wexler is a sight to behold. Dreamlike, culminating in a swarm of locusts that leads to a raging fire at night.
Art Direction, including the aforementioned mansion was spearheaded by Jack Fisk, also responsible for production design in the current theatrical film, There Will Be Blood. I've always admired Fisk's art direction, especially his exterior work on period films. With an impressionistic flair, he distills the essence of a time and place; it becomes seared into your mind, but its presence is never overbearing or distracting. From the insufferable existence in The New World's Fort Raleigh to an isolated pagoda encapsulated by translucent curtains flowing in the wind in Days of Heaven.
More than any other filmmaker, Terrence Malick's films should be viewed like fine art come to life, often rife with visual symbolism and open to interpretation.
One of the best DVD releases of 2007, this Criterion special edition includes a forty plus page booklet, an audio commentary with editor Billy Weber, Jack Fisk, costume designer Patricia Norris and casting director Dianne Crittenden. Video interviews of cinematographers Haskell Wexler and John Baily (Days of Heaven's Camera Operator) and an audio interview with Richard Gere.