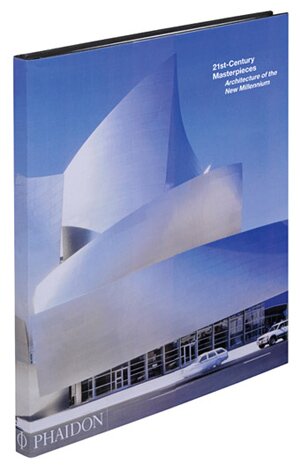 21st-Century Masterpieces - Architecture of the New Millennium
"A concise overview of the most extraordinary landmarks built around the world since the turn of the millennium including stadia, theatres, museums, offices, government buildings, chapels and retail spaces.
Features such noteworthy projects as the Casa da Música in Portugal by OMA, the Walt Disney Concert Hall in the United States by Frank Gehry, Federation Square in Australia by Bates Smart, and the National Stadium in China by Herzog & de Meuron.
Includes a descriptive text for each project, accompanied by an extensive selection of exterior and interior photographs, plans and architectural drawings."
Editor's Note: This inexpensive hardcover volume will hit shelves along with 21st Century Houses. Both appear derived from the hefty Phaidon Atlas of 21st Century World Architecture.
Hardcover | 160 pages | Phaidon | May 2009






Absolutely Fabulous! Architecture and Fashion
"This globetrotting tour of the most spectacular flagship fashion stores shows how designers and architects are working together to reinvent the retail experience as we know it, exploring the synergies between fashion and architecture."
Editor's Note: This highly recommended book features inventive boutiques from Viktor & Rolf's Milan store to the Hong Kong based Armani Cafe. Released in 2006, the book is currently on sale, reduced from $39.95 to $12.95 at Strand in New York.
Paperback | 144 pages | Prestel | June 2006





Burma Chronicles
"After developing his acclaimed style of firsthand reporting with his bestselling graphic novels Pyongyang: A Journey in North Korea and Shenzhen: A Travelogue From China, Guy Delisle is back with Burma Chronicles. In this country notorious for its use of concealment and isolation as social control-where scissor-wielding censors monitor the papers, the leader of the opposition has spent twelve of the past eighteen years under house arrest, insurgent-controlled regions are effectively cut off from the world, and rumor is the most reliable source of current information-he turns his gaze to the everyday for a sense of the big picture.
Delisle's deft and recognizable renderings take note of almsgiving rituals, daylong power outages, and rampant heroin use in outlying regions, in this place where catastrophic mismanagement and iron-handed rule come up against profound resilience of spirit, expatriate life ambles along, and nongovernmental organizations struggle with the risk of co-option by the military junta. Burma Chronicles is drawn with a minimal line, and interspersed with wordless vignettes and moments of Delisle's distinctive slapstick humor."
Editor's Note: Another terrific graphic novel from Guy Delisle and his longest travelogue yet, most likely due to a year long furlough in the region. Some interesting observations of architecture and utilization of space in Burma.
A sneak peek is available online via New York Magazine.
Hardcover | 208 pages | Drawn & Quarterly | October 2008





Digital Materiality in Architecture
"Robots build! At their program in architecture and Digital production at the Eidgenössische Technische Hochschule (ETH) Zürich (Swiss Federal Institute of Technology in Zurich), the architects Gramazio & Kohler have installed a research facility that is unique in the world. It is based on a computer-controlled industrial robot that produces construction elements directly from design data. The robot works flexibly with a tremendous range of tools and materials. In this way Gramazio & Kohler probe the exciting potential of digital design, construction, and manufacturing techniques for architecture. In their projects they incorporate insights and discoveries from the field of computer-aided production into the architectonic design process, using computers to develop innovative construction techniques and architecture. First structures using robots have already been built, for example the much noted Gantenbein vineyard in Flä sch (CH) or the installation at the Swiss Pavilion at the 11th International Architecture Exhibition in Venice."
Editor's Note: Visit www.gramaziokohler.com for an overview of the fascinating projects covered in the book. Storefront for Art & Architecture in New York may still have signed copies in stock.
Hardcover Cloth | 112 pages | Lars Müller Publishers | October 2008




Paradise Lost
"A stunning archive of aerial photographs from the 1970s, Paradise Lost: Persia from Above provides a unique look at a beautiful landscape and fascinating culture few people have seen for themselves. In 1976 and 1978, Georg Gerster, the pioneer of aerial photography who has influenced every aerial photographer working today, had the rare opportunity to record the landscape of Iran on over 100 flights and 300 flying hours. This unique photographic project resulted in a near complete documentation of the major archaeological sites and important landscapes in the region.
This book vividly brings to life a place, time and culture that few people outside Iran are able to witness. The book includes spectacular images of ancient citadels, desert ruins and rice fields spreading like a vast patchwork in a river delta, along with many unexpected sights, such as the bird's eye view of a crowded ski resort in the Alborz mountains, within easy reach of Tehran. Persia's densely packed cities are elegantly captured by Gerster and look so very different from Western European or North American cities of the same period ? their complex, interlocking flat-roofed buildings are both timeless and timely, with architecture that has stood unchanged for thousands of years."
Editor's Note: An important release in the field of aerial photography, Paradise Lost joins the upper echelon of comparable publications that include Over India and Earthsong.
Hardcover | 184 pages | Phaidon | February 2009





The Transparent City
"Chicago, like many urban centers throughout the world, has recently undergone a surge of new construction, grafting a new layer of architectural experimentation onto those of past eras. In early 2007, the Museum of Contemporary Photography? with the support of U.S. Equities Realty, invited Michael Wolf as an artist-in-residence. Bringing his unique perspective on changing urban environments to a city renowned for its architectural legacy, Wolf chose to photograph the central downtown area, focusing specifically on issues of voyeurism and the contemporary urban landscape in flux.
This is Wolf?s first body of work to address an American city. Whereas prior series have juxtaposed humanizing details within the surrounding geometry of the urban landscape, in The Transparent City, his details are fragments of life?digitally distorted and hyper-enlarged?snatched surreptitiously via telephoto lenses: Edward Hopper meets Blade Runner. The material resonates with all the formalism of the constructed, architectonic work for which Wolf is well-known, but also emphasizes the conceptual underpinnings of his ongoing engagement with the idea of how modern life unfolds within the framework of the ever-growing contemporary city."
Editor's Note: Following Hong Kong: Front Door/Back Door, Michael Wolf maintains his sight on dense architecture, shifting his focus from material remnants to individuals with pausing effect. The jacket copywriter's declaration, "Edward Hopper meets Blade Runner", isn't mere hyperbole and Michael Wolf provides a rare photographic treatment of an American city usually reserved for Asian megacities.
Hardcover | 112 pages | Aperture | November 2008