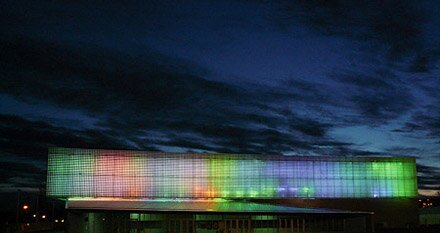 Over the decades individuals have become more outward in their expression, most recently exemplified by the rise of social networks. Through their Design Probes initiative, electronics giant Philips has invested considerable resources researching technologies that afford users new modes of expression from dynamic tattoos to dresses, receptive and reflective of the wearer's mood.
What if this notion is extended to an architectural context? Not just a visual branding exercise or minor interactive quality between pedestrian and facade as produced today, but something more substantial.
Select architecture is certainly capable of eliciting emotion, in some instances it even has the potential to embody our collective emotions and mood. In New York, the external lighting of buildings had become increasingly popular by the early twentieth century, culminating in the Empire State Building's colored floodlit exterior that mark special occassions. Following 9/11, from September 16th till November 31st, the lights were red, white and blue, a symbolic representation of the country's unity and hope.
Asian megacities have since taken such exterior lighting to the extreme as seen in Hong Kong's Peak Tower. Here "a 55-minute sequence and a five minute 'Showtime' script - illuminate the pixelated ceiling, crystal ceiling and underside of the boat and are synchronized so 'the whole building sings and dances together'." Perched on The Peak overlooking Hong Kong, the building almost becomes an emotive character itself.
The EDD (Embedded Data-texture Display) of Hague's Hotel Mercure offers a true hint at the possibility of emotive architecture. Its concept involved "An interactive display incorporating a camera interface to track people's activity on Spui Plaza. The idea is to encourage people on the street to move playfully and consciously communicate with the architecture to generate patterns. Movements captured would be instantly translated into colour traces on the panels."
Considering this evolution, a building that senses its occupants and externally manifests their emotions and pursuits in abstract light becomes a fascinating possibility. Such architecture could be further served by a twisting structure with concave facades or a building whose surface undulates as in Gehry's first skyscraper, the Beekman Tower in NYC. Thus allowing its own occupants to witness the visual feedback, creating a potential for dialog through architecture.

Above | From the art series TV by Mathieu Bernard-Reymond.
Top | Le Prisme Concert Hall, Aurillac. Architecture by Brisac Gonzalez.