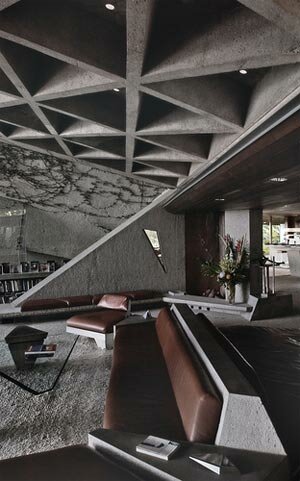 The architectural work of John Lautner became immortalized in popular culture with the 1971 James Bond film, Diamonds are Forever. Sean Connery's final official turn as Bond, also put on display the Lautner designed Elrod House. With all the extravagances in Diamonds are Forever, which included the Ken Adam designed penthouse apartment of Willard Whyte, this scene is arguably the most memorable. Perhaps that has something to do with Bambi and Thumper, the athletic female duo that gleefully pummel Mr Bond. Even so, the spacious interior, panoramic vista and interplay of diagonals with circular forms, leaves an ever-lasting impression.
The living room, a conical concrete dome divided by fans of glass, opens to the surrounding landscape and a semi-circular pool. Lautner's ability to define spaces using diagonals and curved surfaces in the same context with equal deftness is where he surpasses his famous mentor, Frank Lloyd Wright. All these qualities prove ideal for film. It's as if the Elrod House had been designed for the 2.35:1 frame aspect ratio of Diamonds are Forever. His architecture continued to make appearances in movies from Lethal Weapon 2 in 1989 to 1998's The Big Lebowski.
Aspects of Lautner's built works reveal the time period in which they were conceived, yet despite this, they seem to transcend eras. It's possibly attributable to the future fantasy that emanates from Lautner's iconic designs. Lautner himself notes, "Disappearing space seems to me, to be the most durable and endurable and life-giving quality in architecture." Both reasons ideal for film and fiction.
In 2005, his famous Chemosphere became the home for Michael Jones, protagonist in the excellent Warren Ellis & J.H. Williams III comic series Desolation Jones. In his blog Warren Ellis explains, "This is, of course, the Chemosphere, as designed and built by the visionary architect John Lautner in 1960. I believe the publisher Benedict Taschen lives in it these days. I chose the Chemosphere as Jones' home because it looks like a spaceship lodged in the Hollywood hills, with Jones as its illegal alien passenger."
Pop culture's limelight on John Lautner's architecture persists. Last Friday, the new CBS series Moonlight prominently featured the Lautner designed Sheats-Goldstein residence as the habitat for wealthy vampire Josef Konstantin played by Jason Dohring. Even through landscape designer Eric Nagelmann's impressive gardens, it was immediately recognizable. Apparently diamonds are forever.




Photos from Diamonds are Forever. Copyright Danjaq, LLC & United Artists. Captures from JohnLautner.net.

Chemosphere illustration by J.H. Williams III from Warrenellis.com.

Goldstein Residence from the CBS series Moonlight.
Top Photo: Goldstein Residence by Ken McCown via Flickr.