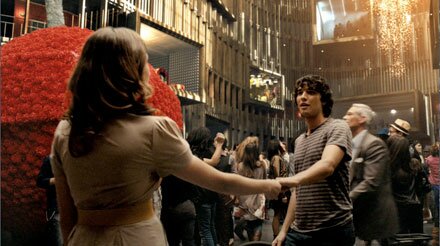 On July 7th, The SciFi channel rebranded itself to Syfy. The new name was perhaps the most widely derided since Nintendo's market leading Wii. Nonetheless, it appears to be paying dividends with increased viewership. Syfy's previous identity remained intact with expanded brand potential, in an era where the traditional television model continues to erode.
Rather than being branded as a destiantion for only sci-fi, they really wanted "to own the imagination space." This led Syfy to commision an ident short film, House of Imagination, as part of their Imagine Greater campaign.
BAFTA & Cannes Lion award winning 4Creative spearheaded the endeavour, directed by Brett Foraker. Accompanying him, the cinematographer of Watchmen, Lost and 300, Larry Fong; and production designer Tino Schaedler, whose credits include Harry Potter and the Order of the Phoenix, and The Golden Compass. Visual effects were provided by the Moving Picture Company.
Following is a behind the scenes glimpse of the design, courtesy Tino Schaedler. Each set focuses on a space, featuring concept art & digital set designs accompanied by construction photos and the finished shot.