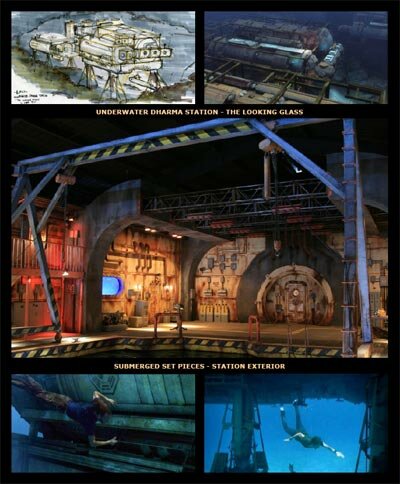 Tonight ABC will re-air (9pm EST) an annotated version of Lost's season 3 two hour finale, Through the Looking Glass, in anticipation of tomorrow's season premiere.
Worse than Devil's Island in French Guiana, the imprisoning island of Lost also serves as a key character. Filmed predominantly outdoors in Hawaii, the art department has still had the opportunity to conceive significant set pieces. All beginning with the wrecked Oceanic Airlines aircraft scattered across the beach. An expense that resulted in a pilot budget of $12 million, the most expensive in ABC history and rivaling the massive cost of the HBO/BBC series Rome.
Season two introduced elaborate interior sets as the we discovered what was behind the hatch. One section of the underground complex even featured a Buckminster-esque geodesic dome.
Season 3 eventually brought us to the underwater communications Looking Glass Station. A PDF and video of the set design from this episode is now online, showcasing the work of Lost's crew and Production Designer Zack Grobler, recipient of a recent Art Directors Guild nomination.