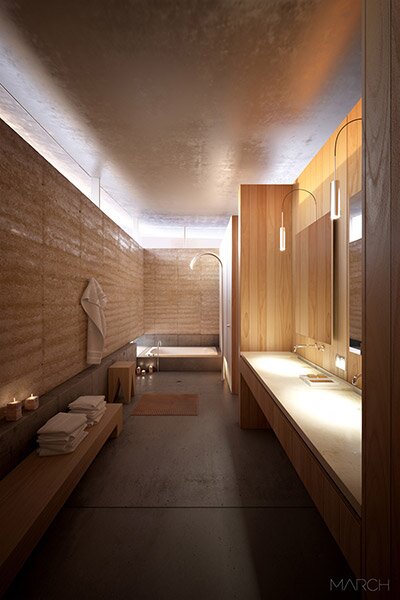 Down under the Manhattan Bridge Overpass (DUMBO) in Brooklyn, resides the former Grand Union Tea Company warehouse. Entering the understated foyer one is greeted by welcoming aromas from a small coffee bar, wedged next to a staircase. One that leads to a bar and restaurant with an atmosphere befitting the latest mecca of artists in New York.
A quick walk up another flight of steps leads you to one of the building's earliest post renovation occupants, the corner office of March. Here against the rustic load bearing walls is a dash of modernism where custom white desks, shelves, partitions and doors featuring meticulously flush edges, offer insight into the partners design sensibilities and attention to detail.
March is at the avant-garde of a new breed of architecture practice dedicated to digital architecture.
The works of its principles Brandon Hicks and Kevin Cimini, both former members of KDLAB and practicing architects with Masters from Columbia University, are recognizeable if not immediately attributable. Their stunning visualizations for Contemporary Architecture Practice's Shanghai Reebok store to the helioscopes by Evan Douglis have graced the pages of countless books and magazines. Most recently they brought to life Avra Verde, a series of luxury houses in Arizona's Sonoran desert by famed American architect Rick Joy, with computer graphics rivaling that of top visual effects firms. The project and their attention to detail reveals a desire to leverage digital tools in designing physically built, intimate scale architecture.
While Kevin Cimini's past work as a digital architect on the Visual Effects Society nominated Mezzo commercials hints at another direction March is pursuing. Bringing formal architectural design to the film, broadcast and interactive industries where architecture is often overlooked or visibly handled by concept designers whose backgrounds traditionally reside in industrial design.
Another example of their digital architecture was developed for the United States Department of Energy's FutureGen iniative. Working in collaboration with engineers and DOE personnel, March designed conceptual prototypes of zero emission power plants equipped with carbon sequestration. An injection of architectural design takes the eyesore of modern industrial complexes into a radically different future direction.
A direction worth watching. View their full screen portfolio at marchmade.com.






Images 1-2 | Rick Joy Avra Verde.
Image 3 | U.S. Dept. of Energy FutureGen - Clean Zero Emission Power Plant.
Images 4-5 | The Office of March.