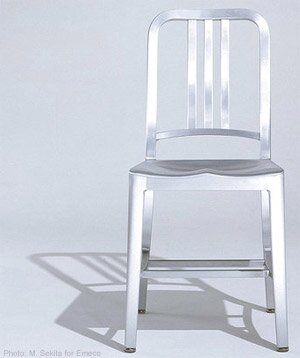 From the office of Dr. House to the interrogation room of the major case squad in Law and Order: Criminal Intent, and countless other television series, stands an iconic chair. Emeco's classic 1006 Navy Side Chair. In production since 1944, the chair continues to gain popularity. Apparently it's even a product of the twelve colonies, making a cameo in the reimagined Battlestar Galactica series.
"Legend has it that Wilton Dinges, who founded Emeco in 1944, actually tossed a 1006 Navy Chair out the window of a six-story building. The result? A few minor scratches. Emeco's 77-step patented construction process was invented to satisfy a military need for lightweight, corrosion-resistant equipment" for use on aircraft carriers, submarines, etc.
"In the late 1990s, the Navy Chair's iconic design began catching the attention of architects and designers, initiating a new era for Emeco. Beginning with soft, recycled aluminum, 1006 Navy seating goes through a series of hand-crafted processes, including heat treatment and anodizing, to render the chair diamond-hard and virtually indestructible. Though imitations of the 1006 exist far and wide, Emeco's Navy Chair is the only one to go through this rigorous production process. Three small welds on the back of the slats are left exposed to indicate that this often-copied seating is the real thing. Specially made stainless steel foot caps are covered with a clear plastic glide to prevent scratching floors or snagging carpets."
The chair has also been subject in a short documentary film capturing its creation. 77 Steps, a film by Eames Demetrios, you can view it at DASFilmFest.com, a site where Eames also offers fortnightly movies on Design, Architecture and Sustainability.