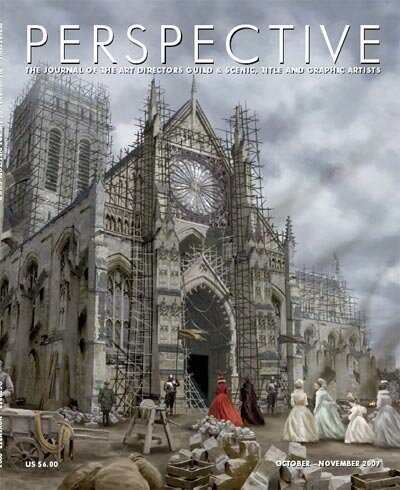 Perspective, the Journal of the Art Directors Guild & Scenic, Title and Graphic Artists has been made available for free download. The magazine offers a fascinating look at the set design and art direction behind film & television productions.
Considering the difficulty in attaining copies in the retail stream, the free availability of issues in PDF format is a welcome move by the Guild. Unlike its cousins, American Cinematographer or the quarterly visual effects journal Cinefex, the articles in Perspective are frequently written by the artistic practitioners themselves.
The most recent February/March issue includes features on The Spiderwick Chronicles, Into the Wild, Best Picture Oscar nominee There Will be Blood and winner No Country for Old Men, Fox reality series Hell's Kitchen and the CBS series Moonlight. Also featured, 5D: The Future of Immersive Design written by Minority Report production designer Alex McDowell, production designer John Mutto and art director Judy Cosgrove.
The December/January issue focuses on digital set design for The Kingdom complemented by Designing in 4D, an article by Tino Schaedler and Michael J. Brown who wrote Towards a Cineplastic Architecture, a Mark Magazine article that was exclusively featured online here at ArTect.net. Also covered, the 2007 art direction Emmy nominees and an in-depth look at the Looking Glass station in Lost.
October/November is more eclectic with articles on Rush Hour 3, Stardust, Elizabeth: The Golden Age, Memoirs of production designer Candi Guterres and Tiptoeing into the Digital Age, a feature from famed Illusion Arts visual effects supervisor Syd Dutton.

Production Art by Production Designer Jack Fisk for There Will Be Blood

Production Art by Jess Gonchor for No Country for Old Men