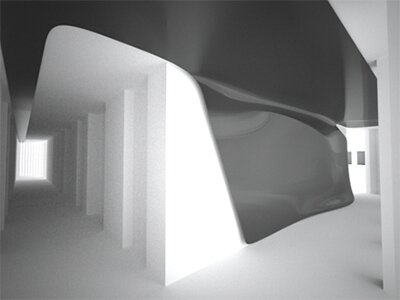 The clutter within modern interiors has created a disjointed occupation of space. The bulk of modern devices from televisions to air conditioners consume valuable real estate while negatively influencing aesthetics. Unsightly cords and cables tether us to walls. Even seamless integration of lighting remains an expensive proposition.
All stuck in the ubiquitous box. The form that has defined interiors for millennia. Exasperated by furniture designed to complement such rigid space. The mass proliferation of such interior dimensions inevitably assures its continued survival. Yet a solution may reside in a more organic approach with biomorphic facades inserted into existing interiors. A new interior shell, functional within current infrastructures.
The seeds of such a paradigm shift have already begun. In the Graft designed Hotel Q, floor blends with walls and furniture from benches to beds. While sections of wall emit light, serving to create a more homogeneous space.
Architecture firm MAD, (Architecture with a Dash of MADness) is pursuing a comparable direction with their design in-progress for the V Hotel interior (see above).
Commercial and office spaces also hint at this potential future, exemplified by C.A.P.'s design for the Shanghai based Reebok Flagship Store.
In the new east coast office of Shilo, a unique plan with a 45-degree kink led architecture firm Studio a+i to conceive a kidney shaped table of massive proportions. 85 foot long, it stretches through the center of the office. Here, a conference room also sports an effective three wall wrap around chalk board.
The spread of personalization and customization in the cultural zeitgeist and catered to by the industrial sector, from NikeID to Lulu, has perhaps set the tone for such changes to occur.
The eventual push toward this direction may arise from emergent technologies. Flexible, micro-thin materials capable of transmitting electrical pulses, generating variable temperatures and emitting light and video would be better suited to biomorphic interiors for optimum effect and flexibility. Such technologies should demand a new approach to interior space. And we may just be willing to accept it.






Top Image | V-Hotel Interior. Work in Progress. Design by
MAD
.
Images 2-3 |Hotel Q - Berlin. Design by
Graft
.
Image 4 | Reebok Flagship Store - Shanghai. Design by
C.A.P.
Render by
March
.
Images 5-7 |
Shilo
East Office. Design by
Studio a+i
. Photography by
Hai Zhang
.