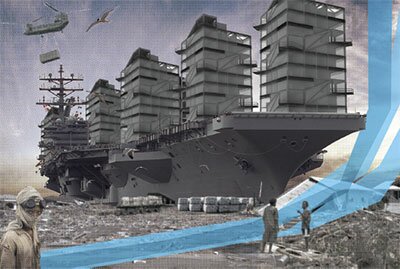 As a site dedicated to architecture and design in media, I'm remiss for not having mentioned nous.
"A gallery, network, and publication with an initiative to expose and promote design qualities inherent in digital media and technologies for architecture and design."
nous network is especially interesting as it "provides a communication platform for work, ideas, and discourse to be shared by practitioners, theoreticians, students, offices, and universities." Anyone can peruse the work of its members in the exposure section; already an impressive repository of design concepts.
Founded by three distinguished architects with backgrounds in computational architecture, (Christian Derix, Melissa Woolford and Paul Coates) their latest exhibition, Border Lines, debuts next week in London, November 11 - 17.
"Border Lines brings together a network of artists, architects, and others whose recent works are engaged in original forms of transnational social activism. The exhibit includes manifestos for design proposals, performance art videos, and development programs. Technologies, politics, and territories come together in a network of projects involving social and geopolitical borders throughout the world. All projects are federated by the Space for Human Rights organization which seeks to contribute to the development of Human Rights by extending the field to new territories and linked practices, reassembling and contributing to a global culture of Human Rights."
The exhibition opens November 11th, 7 - 10pm at 5 Blenheim Crescent, London W11 2EE.


Images from the exhibit Border Lines.
www.nousgallery.com